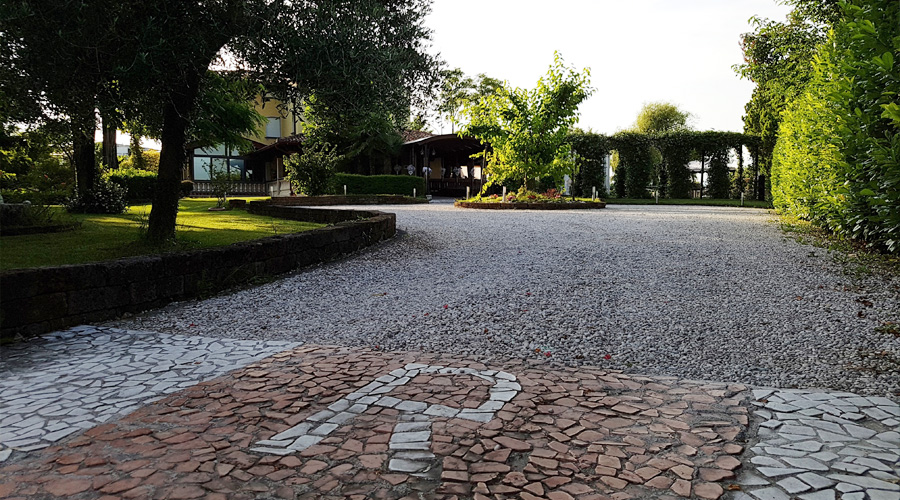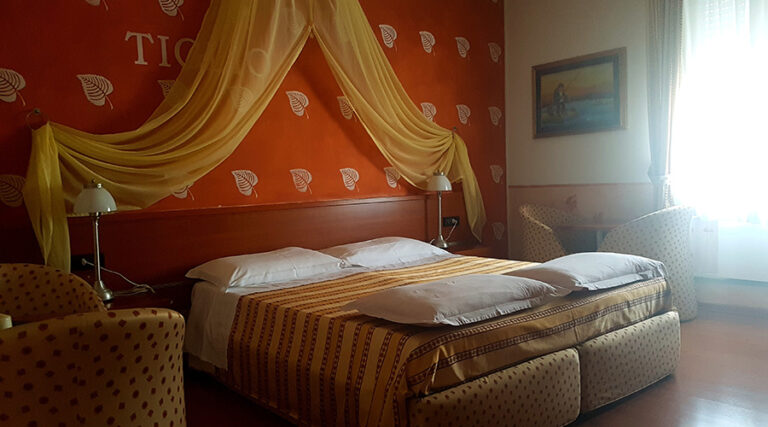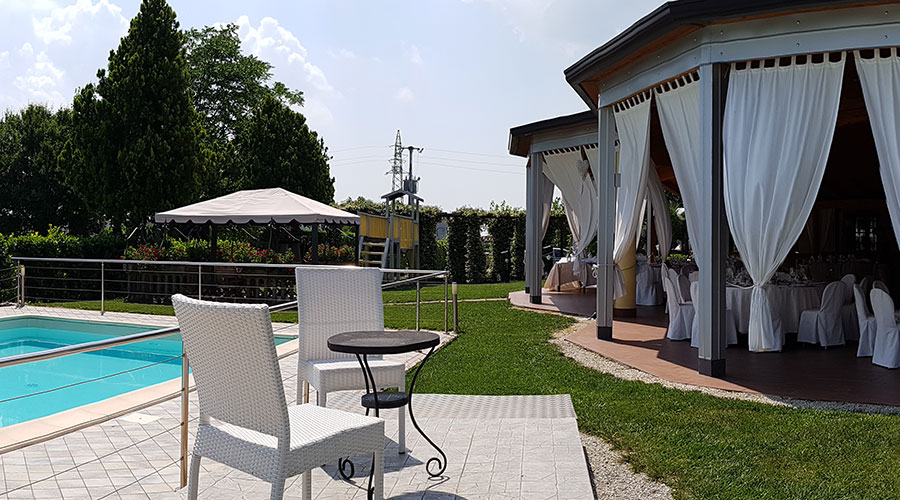 pianifica una vacanza meravigliosa - plan your beautyful vacancy
Il nostro albergo - Our hotel
"Villa Riviera" sorge nei primi anni '80 su intuizione del papà Carino Cosatti, già noto ristoratore e albergatore con il suo "Albergo Riviera" di Grado,
famosissima meta nell'Isola del Sole degli anni '60.
Grazie alla tranquillità che si apprezza passeggiando tra i suoi giardini o rilassandosi a bordo piscina, a "Villa Riviera" è possibile assaporare un'Atmosfera Piacevole e riposante dovuta in gran parte all'Ospitalità Premurosa, Cordiale e Attenta che lo staff del Riviera dispensa ai propri ospiti.
"Villa Riviera" was built in the early 80s on Carino Cosatti's intuition, already a well-known restaurateur and hotelier with "Hotel Riviera" in Grado,
a famous destination on the Island of the Sun in the 60s.
At "Villa Riviera" you can enjoy a pleasant and Restful Atmosphere due in large part to the Caring, Friendly and Attentive Hospitality that the staff of the Riviera dispenses to its guests.
Le camere, immerse nel verde, sono tutte elegantemente arredate in stile classico, decorate e climatizzate; dispongono di tv Lcd, minibar e free wi-fi.
Ciascuna stanza è dotata di un bagno personale provvisto di svariati articoli da bagno e asciugacapelli.
The rooms, surrounded by greenery, are all elegantly furnished in a classic style and air-conditioned; there are LCD TV, minibar and free wi-fi.
Each room has a personal bathroom with various toiletries and hairdryer.
nel dettaglio - in detail
Informazioni generali - General Informations
Check-in: dalle ore 13.00 alle ore 19.00 – Check-in: from 13.00 to 19.00
Check-out: dalle ore 08.00 alle ore 11.00 – Check-out: from 8.00 to 11.00
Orario colazione: dalle ore 08.00 alle ore 10.30 – Breakfast time: from 8.00 to 10.30
La location NON EFFETTUA SERVIZIO DI RISTORAZIONE per l'albergo.
Per la vostra prima colazione a buffet è stata creata
una saletta riservata con vista sull'ampio parco all'ingresso della villa.
Viene offerta la colazione all'italiana e su richiesta
– con un extra a pagamento – l'internazionale con affettati e formaggi del territorio.
The location DOES NOT CARRY OUT CATERING SERVICE for the hotel.
For your breakfast buffet, a private room has been created
overlooking the large park at the entrance of the villa.
Italian breakfast is included and on request
– with an extra fee – the international with cold cuts and cheeses of the territory.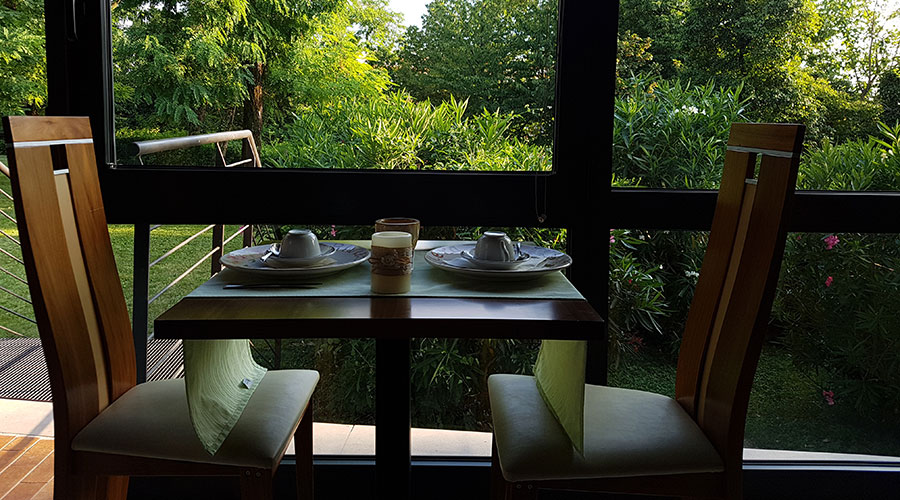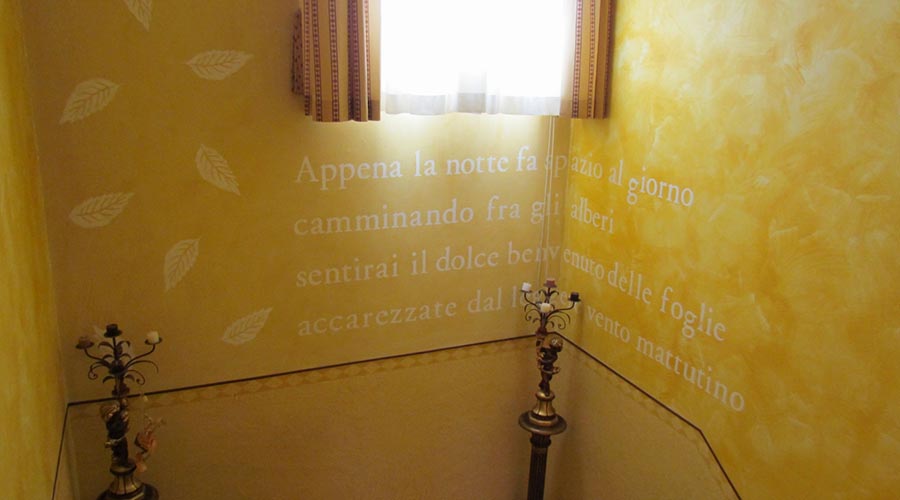 # Hotel 3 stelle
# Camere elegantemente arredate
# Wi-fi gratuito
# Aria condizionate
# Tv schermo piatto
# Minibar
# Bollitore con te'
# Ingresso in piscina
# Parco con zona prendisole
# Parcheggio gratuito
# a 600 m da Centro Commerciale Bennet
# Prima colazione a buffet
# Informazioni turistiche
Cosa dicono di noi? - What they say?
Il soggiorno è stato molto piacevole, i titolari disponibili e la camera confortevole. L'area piscina etremamente rilassante.
Eccellente...curato nei minimi dettagli...il proprietario un vero signore...il posto bellissimo...è stato un peccato tornare a casa
Davvero una bella struttura, ben curata e pulitissima e, soprattutto, molto tranquilla. Ottimo lo staff per accoglienza e gentilezza
Location molto bella e accogliente, personale super cordiale, sorridente e gentile. Colazione dolce molto buona e ricca, possibilità di chiedere dei formaggi e salumi per chi preferisce il salato. Ah aggiungo che il letto è molto comodo, Consiglio questa struttura vivamente a chiunque come noi ha voluto un appoggio per poi muoversi ogni giorno.
Tutte le aree comuni sono un vero paradiso. Ben tenute, si può girare per la struttura in tutta tranquillità. Ci sono molti spazi dove sedersi, magari sorseggiando qualcosa... molto carino. Il personale molto cordiale e disponibile. La colazione buona e assolutamente sufficiente come varietà. La piscina è un plus non da poco ed è tenuta ottimamente.
Una struttura fantastica che da il meglio di se durante il periodo primaverile/estivo. Location da movida e feste all'aperto. Comoda alla strada principale ma immersa nel suo spazio isolato permette riposi profondi nel pieno silenzio. Le camere sono molto carine, tutte a tema.